THERE IS NO SHORTCUT TO CURE THIS CONDITION,
An e-book published on Kindle by Thomas A. Droleskey, Ph.D.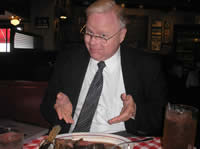 The "before" photograph, taken at Major's Steak House, Woodbury, New York, June 12, 2007
What condition? Having a lifelong love of good food that results in weight gain? Sound familiar?
If so, you will want to read There Is No Shortcut to Cure This Condition: A Catholic Man's Lifelong Battle of the Bulge, written by Thomas A. Droleskey, a Catholic author and former professor of political science, known also to many baseball fans in the New York area as "The Lone Ranger of Shea Stadium" from May 4, 1976, to July 16, 2002.
Droleskey's new book is available online for $3.99 at the Kindle Book Store. It can be read on Kindle devices or by downloading free Kindle software for personal computers and for all hand-held devices, contains a good deal of nostalgia as it reviews foods advertised on television back in the 1950s and retraces the restaurants where a lot of poundage was added over the decades, offering one man's common-sense, non-medical recommendation for losing the weight. The book is thoroughly Catholic as Droleskey explains how his recent diet was used as a means of making reparation for his overeating and overeating and overeating.
Oh, how much has been lost? Over ninety pounds in less than nine months. How did he go up? How did he go down? Good questions. Find the answers in Droleskey's new book.
Such local establishments as The Milleridge Inn, Manero's (Syosset, Centerport, Garden City, Roslyn, Greenwich, CT), Major's Steak House, Empire Diner, Raimo's Pizza and Pasta, Bagel Boss, Taby's in Oyster Bay, Wicker's--and many that are now closed in the New York City--Long Island area--are mentioned very favorably in the book. Ah, but do you remember Andre's or Maude Craig in Lake Success, Au Petit Moulin in Great Neck, the Viennese Coach or Villa Victor in Syosset?
Food stores? You betcha! Remember H. C. Bohack? How about Manhattan Food Stores or Penn Fruit? What about Hanophy Meat Market in Oyster Bay?
What? You live in Ohio? You'll find Mitchell's Fish Market, Pappadeux Seafood Kitchen, The Grand Finale, The White House Inn, Marx's Bagels, Servatii Pastry, First Watch and Original Pancake House among the restaurants mentioned in the book.
Give it a try? Those of you who have a few pounds to take off only have the weight to lose. And you don't have to have a weight problem to enjoy the book!
There Is No Shortcut To Cure This Condition: A Catholic Man's Lifelong Battle of the Bulge, available for $3.99 online at the Kindle Book Store. Buy one today!
Soon to be available in audio form at Christ or Chaos Store.
An "after" photograph, taken on September 25, 2010 (thirteen pounds have been lost since that time):